THINGS TO CELEBRATE
Residents' satisfaction with where they live
What's missing?
THINGS TO IMPROVE
Blight
Support for development of affordable housing
ALSO HEARD
Housing in Flint is more affordable than in neighboring communities.
The decline in property values remains a key concern.
THE ISSUE
Decades of economic struggle have left much of Flint's housing in poor condition. Addressing blight, creating affordable and attractive housing options, and restoring neighborhood pride are key to improving quality of life in Flint and building a new future for the community.
THE RESPONSE
Multiple organizations in Flint empower residents to become actively engaged in building up their community. The Neighborhoods Small Grants Program, led by the Community Foundation of Greater Flint, funds projects that strengthen neighborhood groups, create safer environments, improve neighborhood conditions, and connect residents to each other and to resources. The Court Street Village Non-Profit Housing Corporation works with residents and local organizations to address blight, reduce crime and repair homes. Through its Building Resident Action by Neighborhood Design (Flint BRAND) program, Genesee County Habitat for Humanity provides block clubs and other groups with an average of $10,000 in grants to beautify and improve Flint neighborhoods. In addition, Communities First, Inc. and the Foundation for the Uptown Reinvestment Corporation are creating new units of safe, affordable housing in the city. The efforts of these and other local partners aim to stabilize neighborhoods and strengthen the Flint community.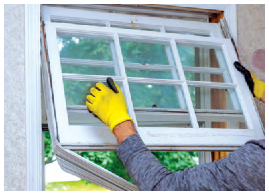 DID YOU KNOW?
The Lead Safe Home Program, offered by the Michigan Department of Health and Human Services, helps to ensure that children living in homes built before 1978 are protected from lead-related hazards. Following a free inspection, qualified homeowners can receive low- or no-cost improvements, such as new windows, doors, exterior siding, plumbing fixtures and pipes, as well as specialized cleaning and painting services.
CONTACT: Michigan Department of Health and Human Services, 866-691-5323